Top 10 Hottest Lingerie Football Players
10. Michelle Angel – Los Angeles Temptation
Sporting camo gloves and a camo katana on her hip (not kidding), Michele Angel is one of the mainstays of the Los Angeles Temptation. I have been trying to figure out if the black makes her look good, or if she makes the black look good; then I finally figured it out. The fact that she is walking around half naked with a toned body makes it all look good. I'm glad I could clear that up if anybody else was confused.
9. Monique Gaxiola – Los Angeles Temptation
In 2014 Monique Gaxiola became the first ever person inducted to the LFL Hall of Fame, being deemed as a "Living Legend" of the sport. Aside from being an absolute knockout, the thing that makes "The Gax" the most beautiful, is her humility. She has stated on many occasions on social media that she doesn't think she has a perfect body. There is a sexy nature about a woman who is insecure, but can still have the confidence to throw on booty shorts and shoulder pads every week. If nothing else, Gaxiola has the distinction of being the sexiest HOF linebacker who ever lived.
8. Deena Fagiano – Chicago Bliss
The Chicago Bliss' Deena Fagiano is a veteran of the LFL, often cited as one of the league's biggest fan favorites. Who couldn't see why, with her extremely fit body and inviting eyes, it's no wonder why the tight end is an entry on this list. Like most of the players in the LFL, Fagiano puts more emphasis on being fit than being skinny, and you can tell by taking a look at her muscular (but tight) physique.
7. Angela Rypien – Baltimore Charm
Probably the most popular player in the LFL, the Baltimore Charm's Angela Rypien is the also the most genetically destined to play in the league. She inherited her quarterback ability from her father, Super Bowl MVP Mark Rypien, and her looks from her mother who was a Washington Redskins Cheerleader. As well as bringing credibility to the sport, Rypien is considered to be one of the sexiest woman not only in the LFL, but in all sports according to TMZ.
6. Lauren Fogle – Las Vegas Sin
Lauren Fogle is a bombshell who plays for the Las Vegas Sin…a blonde, stutter inducing, eye widening, bombshell. Now full disclosure, most of the ladies in the LFL (like most athletes) have very round butts; some falling flat in their front (no pun intended). That is not the case with Fogle, who without being too crass, the DB has a lot going on upstairs, to the point where it looks like she could bust out of her top at anytime.
5. Tai Emery – Las Vegas Sin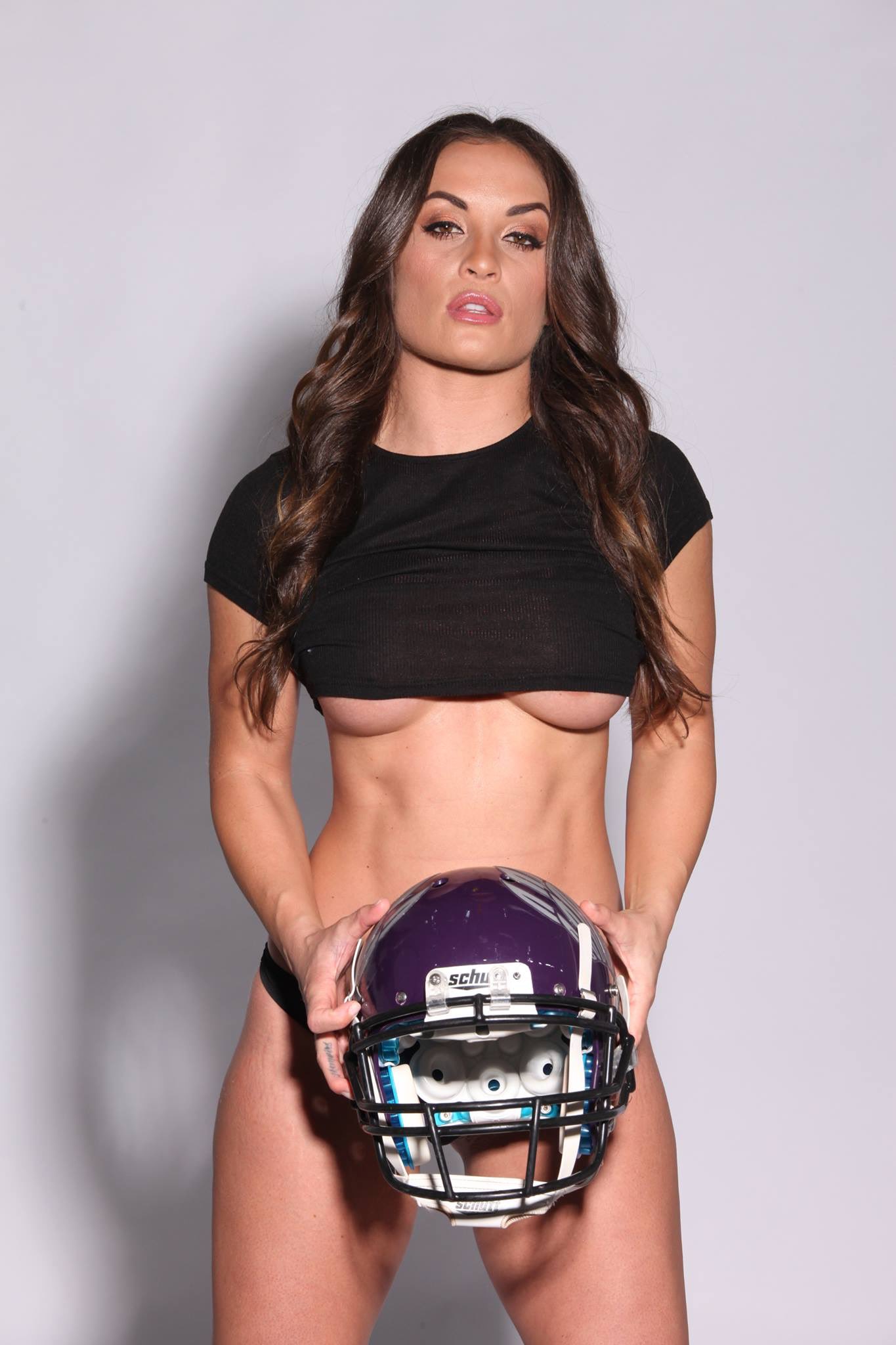 Tai Emery is that LFL player that you don't know how, but you know that you have seen her; likely from being featured in almost all of the LFL ads, and photos. Emery, who is from Australia, is a linebacker for the Las Vegas Sin, and also is a fitness model with one of the best Instagram feeds in the LFL. She has been voted onto the best boobs of Australia list, and has a very sexy accent in addition. If you haven't checked her out yet, I suggest you do it soon.
4. Adrian Purnell – Atlanta Steam
Representing the Atlanta Steam, Adrian Purnell is one of the bad girls on this list. Not only does the tight end look great while playing, but she is legitimately competitive and shows it on the field. As much as fans love watching half naked girls playing football, Purnell takes it to another level, with her sexy trash talking and fiery nature. She even seems to have caught the attention of the mainstream being photographed with rapper Drake.
3. Danika Brace – Seattle Mist
Danika Brace has the energy and charisma of a female Ultimate Warrior- facepaint and all. The Seattle Mist star is prominently featured on the Fuse TV commercials for the LFL, as well as all of their print ads. What separates Brace from the other 14 girls on this list? Well she has the mouth of a sailor, and is recognized as the biggest, and dirtiest trash talker in the LFL…which is sort of hot if you're into that kind of thing.
2. Michelle Minks – Las Vegas Sin
Welp, it was only a matter of time before we saw a Playboy model on this list, with Michelle Minks being the one and only. Sure former LFL players have graced the pages of Playboy, but that was during the fight for credibility in the league. Which begs the question, does it hurt the sport's credibility to have girls who pose nude on teams? Well we can't possibly know the answer, but what we do know is that Michelle Minks looks really good in a Sin jersey…even better in less.
1. Cynthia Schmidt – Las Vegas Sin
Watch. Cynthia. Schmidt. Stretch.
Go ahead I will wait for you to come back…if you ever come back. If you can't tell by now, there are ton of the ladies on this list are coming from the same teams, with another playing for the Las Vegas Sin. Schmidt has arguably the best abs, and legs in the LFL, so much so that they have them plastered all over the LFL official Facebook page .Oh and yeah she is a pretty good football player too.